Current Gallery Exhibit
Kimberly Tschida Petters February 11–March 30  Artist Reception: February 23
"We all have our own histories with the space that surrounds us, and with the landscapes we have visited. When I paint these landscapes, I am thinking about the subtleties, the layers and the light. I am mesmerized by the expansive space of the land. Even as a young person I have always been most relaxed while riding in a car. Driving alongside the land and taking it all in."Kimberly Tschida Petters is a St. Paul artist. She received her Bachelor of Fine Arts Degree in Drawing and Painting from the University of Minnesota. www.kimberlytschidapetters.comInstagram: @kimberlytschidapetters
---
Previous Exhibits:
Winter Nights/Summer Light
"Though the days are slowly getting longer, who doesn't crave the bright skies of summer? Stroll the gallery and fill your eyes and soul with images of brilliant days ahead."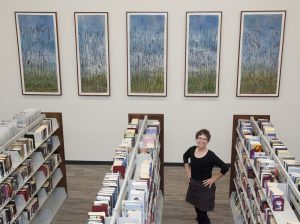 Artist's Statement
My botanical printmaking process is very tactile. Using simple brayers and brushes, ink is applied to grasses and leaves; the inked plants are hand pressed onto pigment infused surfaces such as Sumi paper, tissue, muslin, or organza. Through these low tech means, I create multifaceted landscape compositions of common plants.
Prairies have a rich history; they beckon me to share their stories in my printmaking. I admire the structure of prairie plants, which, when healthy, have root systems three times the length of the stalk height to draw flood waters into aquifers and to draw water to the plant, persevering through drought periods.