Current Gallery Exhibit
Member Art Show–Calling All Artists!
What pieces of original artwork would you like to display in our Cloister Gallery? Members of our congregation will have the opportunity to showcase one or two of their creations for the enjoyment of the House of Hope Community. Work will be accepted in the Bridal Room on May 12, 2019 before and after 10 a.m. worship. Contact Patty Paulus if you need to make other arrangements.
---
Previous Exhibits:
Winter Nights/Summer Light
"Though the days are slowly getting longer, who doesn't crave the bright skies of summer? Stroll the gallery and fill your eyes and soul with images of brilliant days ahead."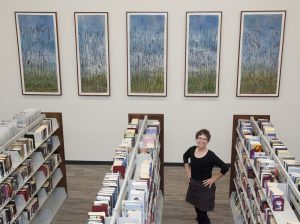 Artist's Statement
My botanical printmaking process is very tactile. Using simple brayers and brushes, ink is applied to grasses and leaves; the inked plants are hand pressed onto pigment infused surfaces such as Sumi paper, tissue, muslin, or organza. Through these low tech means, I create multifaceted landscape compositions of common plants.
Prairies have a rich history; they beckon me to share their stories in my printmaking. I admire the structure of prairie plants, which, when healthy, have root systems three times the length of the stalk height to draw flood waters into aquifers and to draw water to the plant, persevering through drought periods.