In every age the Spirit speaks.
Didier Seminar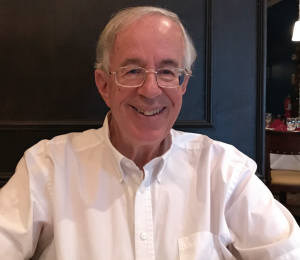 The New Cosmic Story: Inside our Awakening Universe
with Internationally Renowned Theologian John Haught 
Scientific advances are making it clear that the universe is a story still unfolding. How does science inform faith and vice versa? How has our idea of the universe changed over the past 2,000 years? What is the new cosmic story and how does it invite a new understanding of the religious quest? Do the stories we've been telling about the universe and religion still work? Do they compete or interact? Does human experience—what we now know, how we feel, what we do—have an impact on the evolving universe? 
An informed and compelling Christianity is the goal of the Didier Seminar.
Saturday, February 29
6:30 p.m. – Welcome Reception
7:30 p.m. – Lecture: The New Cosmic Story and the Meaning of Faith
Sunday, March 1
10 a.m. – Sermon: Faith and Ecology for an Unfinished Universe
11:15 a.m. – Lecture:  Evolution and Faith: What Is at Stake?
2020 Didier Book Available
Pick up your copy of John Haught's book The New Cosmic Story on sale through the church office.
Didier 2020 Prep Book Study
February 5, 12, and 19 at 7 p.m.
Phil Bolinder presents an overview and leads discussion of The New Cosmic Story.
February 5: Motive and Essential Elements (Intro. and Chapter 1–Dawning)
February 12: Three Ways of Reading the Universe (Chapter 2–Awakening)
February 19: Implications for Religious Traditions (Chapters 3–12)
Related Adult Education Lectures at House of Hope
 February 9 at 11:15 a.m. – Our Special Universe: What makes the universe unique from a scientific perspective?. Will the future be influenced by our own contributions?  University of St. Thomas Physics Professor Paul Ohmann will address "Emergence."
 February 16 at 11:15 – Have Humans Become a Geological Force? Professor Arjun Guneratne from the Macalester Anthropology Department will address The Anthropocene Era and the Human Prospect.
---
What is the Didier Seminar?
The Calvin W. Didier Annual Seminar on Religion and Contemporary Thought was endowed in 1993 as a retirement tribute to Reverend Didier in honor of a ministry mindful of the many voices of the spirit and the profound changes we continue to experience in contemporary thought and culture.  This yearly seminar is dedicated to the spiritual growth through the best comprehensive thinking in religion, the arts, letters and science.  We seek to present inspiring and acknowledged leaders in their various fields.
Past Speakers and Topics:
2019     Rev. Dr. Robin Meyers:  "Progressive Christianity"
       2018      Dr. J. Andrew Overman   "When Stones Speak: Digging Deeper into Jesus Movements, Formative Judaism, and the Rise and Expansion of Islam"
2017      Dr. Eddie S. Glaude, Jr.    "How Race Still Enslaves the American Soul"
2016      Diana Butler Bass            "What Does It Mean To Say "I Am Spiritual But Not Religious"?
2015      Rev. Dr. Marilyn Salmon "Jesus Then and Now"
2014      Dr. Amy-Jill Levine          "Jesus, Judaism and Christianity"
2013      Professor Paul Knitter    "Must My God be Bigger Than Your God?" (Moving Beyond Competition to Cooperation)
2012      John Phillip Newell         "A New Harmony: The Spirit, The Earth, The Earth and the Human Soul"
2011      Dr. Wilson Yates, Prof. Michael Dennis Browne, Dr. Stephen Paulus, and Rev. David Miller and Dr. Aaron David Miller                                                                  "Theology, Spirituality and the Arts"
2010     Rev. Dr. Cynthia Bourgeault         "Meditation and Visionary Seeing in the Christian Tradition"
2009     Dr. Imam Seyyed Hossein Nasr        "The Heart of Islam"
2008     Dr. Philip Jenkins       "The Next Christendom"
2007     Rev. Dr. Martiin Marty      "Must Faiths Collide?"
2006     Dr. Don Swearer     "Buddhism"
2005     Dr. Dominic Crossan    "The Historical Jesus and the Kingdom of God Then and Now"
2004     Rev. Dr. ( Sir) John Polkinghorne    "Belief of God in and Age of Science"
2003     Dr. Dominic Crossan    "The Historical Jesus and the Kingdom of God Then and Now"
2002     Dr. Elaine Pagels     "The Challenge of the Gospel of Thomas. Different Views of Jesus and His Message"
2001    Dr. Marilyn Salmon, Rev. Dr. Calvin Roetzel, Rabbi Barry Cytron       "What Have We Learned and What Does it Matter?"
2000   Dr. Richard Horsley       "Jesus Paul and the New World Order"
1999   Rev. Dr. Marcus Borg       "Jesus in Contemporary Scholarship"
1998   Rev. Dr. J. Andrew Overman      " Jews and Christians: How Did We Start and Where Are We Headed?"