The Didier Seminar | May 18, 2018
6:30 p.m. – Social Hour 
7:30–7:45 p.m. – Remarks, Tributes, and Toasts
7:45 p.m. – Lecture by Dr. Andrew Overman
Celebrate The Didier Seminar's 20th anniversary as we welcome back inaugural speaker Dr. J. Andrew Overman. He will reflect on the last two decades of groundbreaking archeological research and discoveries in a lecture titled: When Stones Speak: Digging Deeper into Jesus Movements, Formative Judaism, and the Rise and Expansion of Islam.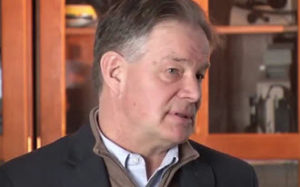 Dr. Overman is the recipient of the esteemed Thomas Jefferson Award and is The Harry M. Drake Distinguished Professor of Humanities and Fine Arts at Macalester College. He specializes in religion and culture in the Greco-Roman world. Dr. Overman also leads an excavation project of a temple in Galilee.
"By reaching back we learn about ourselves and how we might live together more effectively." — Dr. Andrew Overman