The Didier Seminar | Lecture by Dr. Andrew Overman
May 18, 2018
The Didier Seminar celebrated its 20th anniversary by welcoming back inaugural speaker Dr. J. Andrew Overman. He reflected on the last two decades of groundbreaking archeological research and discoveries in a lecture titled: When Stones Speak: Digging Deeper into Jesus Movements, Formative Judaism, and the Rise and Expansion of Islam.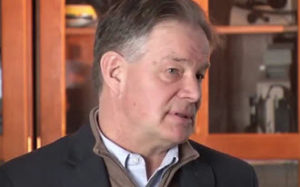 Dr. Overman is the recipient of the esteemed Thomas Jefferson Award and is The Harry M. Drake Distinguished Professor of Humanities and Fine Arts at Macalester College. He specializes in religion and culture in the Greco-Roman world. Dr. Overman also leads an excavation project of a temple in Galilee.
"By reaching back we learn about ourselves and how we might live together more effectively." — Dr. Andrew Overman
Mission:  In every age, the spirit speaks. To remain vital it must be interpreted and reinterpreted in the life and times of every generation. (from "The Re-Forming Tradition" by Milton J. Coalter, John M. Mulder, and Louis B. Weeks) 
An informed and compelling Christianity is the goal of the Didier Seminar.
The Calvin W. Didier Annual Seminar on Religion and Contemporary Thought was endowed in 1993 as a retirement tribute to Reverend Didier in honor of a ministry mindful of the many voices of the spirit and the profound changes we continue to experience in contemporary thought and culture.  This yearly seminar is dedicated to the spiritual growth through the best comprehensive thinking in religion, the arts, letters and science.  We seek to present inspiring and acknowledged leaders in their various fields.
Past Speakers and Topics:
2017      Dr. Eddie S. Glaude, Jr.    "How Race Still Enslaves the American Soul"
2016      Diana Butler Bass            "What Does It Mean To Say "I Am Spiritual But Not Religious"?
2015      Rev. Dr. Marilyn Salmon "Jesus Then and Now"
2014      Dr. Amy-Jill Levine          "Jesus, Judaism and Christianity"
2013      Professor Paul Knitter    "Must My God be Bigger Than Your God?" (Moving Beyond Competition to Cooperation)
2012      John Phillip Newell         "A New Harmony: The Spirit, The Earth, The Earth and the Human Soul"
2011      Dr. Wilson Yates, Prof. Michael Dennis Browne, Dr. Stephen Paulus, and Rev. David Miller and Dr. Aaron David Miller
"Theology, Spirituality and the Arts"