Reverend Doctor Mark Barger Elliott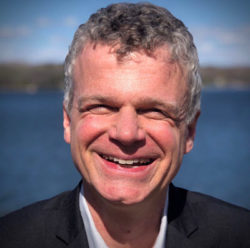 Co-Pastor Head of Staff
Phone: (651) 223-7549
Contact
Mark was baptized in John Calvin's church in Geneva, Switzerland, and 18 years later made a profession of faith while attending Cornell University. Ten years later, he was ordinated in the Presbyterian Church (USA). Along with his wife Lynn, Mark has served churches in Ann Arbor (MI), Riverside (IL), and Grand Rapids (MI).
A life-long learner, Mark graduated from Princeton Theological Seminary where he won the John T. Galloway Preaching Award. At San Francisco Theological Seminary he earned a Doctor of Ministry in preaching. Mark has taken classes on strategic planning at the Harvard Business School, has a Certificate in Nonprofit Management from Northwestern University, a Certificate in Human Resource Essentials from Cornell University, and enjoys events such as the European Society for Study of Science and Theology. Mark has taught "Biblical Perspectives" at Compass College of the Visual Arts and preaching at McCormick Seminary. Recently, he and his wife taught a seminar at Princeton Seminary on "Visually Speaking: Proclamation in the Digital Age."
As an author, Mark has written Creative Styles of Preaching, Middle of Maze: 5 Secrets to Finding Your Way and Easter: 21 Stations. As a filmmaker he directed The Last Songwriter which premiered at the Nashville Film Festival and won an Audience Award, and Lost Boy Home which was narrated by Sam Waterston, premiered at the Palm Beach International Film Festival, won a Best Shorts Award and was featured at the Africa World Documentary Film Festival.
For hobbies, Mark enjoys running, watching Big Ten athletics, and the pursuit of making the perfect omelette.