"The universe is made of stories, not atoms."
—Muriel Rukeyser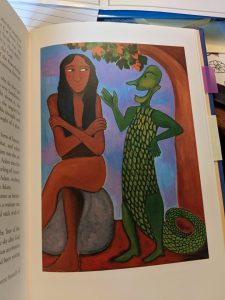 On Sunday morning at 11:15 a.m., we will take a look at Valerie's Saiving's article "The Human Situation" and bring it into conversation with our own stories by way of another conversation: The one that Eve had with the snake, as illustrated here by Emily Lisker (from When the Beginning Began by Julius Lester).
This is the first gathering of five on feminist theology led by Rev. Julia Carlson. All are welcome.
Valerie Saiving Goldstein, "The Human Situation: A Feminine View," The Journal of Religion 40, no. 2 (Apr., 1960): 100-112.