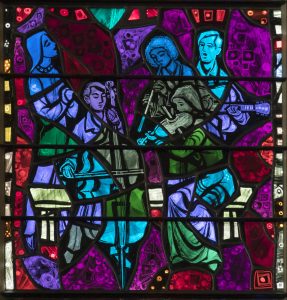 Worship at House of Hope on All Saints' Sunday provides a time to reflect on loved ones who have joined the church eternal.
J.S. Bach's Cantata BWV 8, Liebster Gott, wenn werd ich sterben? was first performed in September, 1724 in Leipzig. The text of this work is suitable for performance as we remember and acknowledge those who have died in this past year. The work's opening movement poses the question, "Dearest Lord, when will I die?," as a flute colors the movement with a repetitive pattern, reminding us that our time on earth has an ending. The final chorale text asks that our end be good, and that we earn an honest grave among godly people.
This will be the Motet Choir's second performance of the work (first performed in 2015), and will feature soloists Linh Kauffman, Allison Eckberg, Tyler Berg, and Timothy Bruett. Joining the choir and soloists are The House of Hope Chamber Orchestra and organist Aaron David Miller. The Bells of Hope Handbell Choir will play during the reading of the names.